Social Links Widget
Click here to edit the Social Media Links settings. This text will not be visible on the front end.
Typically, buyers include a home inspection contingency in their purchase offer that allows them to ask the sellers for repairs and get out of the contract if the seller refuses. The seller can respond in a number of ways.
They can readily agree to fix the problem, no matter how expensive.
They can agree to fix any problem that's a safety or potential legal issue, such as mold or radon remediation, but decline minor repairs such as filling in and painting over picture hanger holes in the wall.
They can refuse to fix anything, but risk losing the buyer. For safety or code issues, they'll have to declare the problem on subsequent seller's disclosures, which could impact the home's value to future buyers.
They can offer to lower the price of the home to cover the cost of the repair for the buyer, or offer a closing credit to the buyer to pay for the repair without lowering the price of the home.  That way the buyer can complete the repair to their liking.
They can ask the buyer to meet them halfway, such as paying more for the home if the seller repairs something major, or replaces the roof.
They can ask the buyer to waive additional repair requests if the seller will fix the worst or most expensive problem.
Sellers should know that FHA, VA and other government-guaranteed loans have stricter requirements for home safety, and that some repairs are mandatory for the buyer's loan to close.
© 2021 BHH Affiliates, LLC.
Unless you're living in a custom designed home, you probably wish your bathroom—or your guest bath—was bigger.
Short of pushing out the walls or totally remodeling, home editors at TheSpruce.com offer eight good tips for making the most of your bathroom space:
Pick the right colors. Save the bright hues for accessories if you like, but paint the walls and choose the flooring to create an illusion of space and serenity. Pale, soft pastel shades are best.
Up the lighting. Adding recessed lighting in the ceiling or opera lights above the vanity are good ways to increase the brightness and create a more spacious feeling.
Try a pedestal sink. A vanity cabinet provides storage under the sink, but it takes up lots of floor space. If you can find storage space in a nearby linen closet, trade the vanity for a low-profile pedestal sink. (Note, however, that if you remove the vanity, you will likely have to repair or change the flooring.)
Cut back what sticks out. Anything that sticks out into the room can make your room seem to shrink. Remove as many hanging shelves, racks, or decorative accessories as you can because they cut into the room and make it look smaller.
Use mirror reflection. Use the largest mirror you can over the bathroom sink. It will reflect all the light in the room, including the pale colors you've chosen.
Get rid of visual obstructions. Trade a frosted-glass bath or shower door for a clear glass one. Or, better yet, eliminate the door and install a shower curtain that can be pushed back to one side when not in use. You'll be able to see all the way to the back wall to maximize the illusion of spaciousness.
Expand the ceiling. You can create the illusion of a raised ceiling if you install crown molding and paint it the same color as the ceiling.
Ditch the clutter. Keep only essentials on the bathroom counter. The less clutter, the more spacious the look and feel.
© 2021 RISMedia. All Rights Reserved.
The foundation provides support for your entire house, so keeping it level and in good condition is critical to the protection of the entire structure and the safety of your family. A foundation can become damaged by a variety of problems and natural occurrences. If you notice any of these warning signs, you should have your foundation inspected as soon as possible.
Cracks
The most glaring sign of a foundation problem is cracking in the foundation, walls or floors. This can be a result of movement in the soil that causes the house to sink. Even if a crack appears small, it can indicate that there is a serious problem. This should be addressed as soon as possible.
Settling or Heaving
You may notice that the house is settling or sinking on one side. This indicates a significant foundation problem that can result in safety issues. Ignoring even a small change will only allow the problem to get worse.
Sometimes the opposite happens and the foundation moves upward. You may notice that hallways, doors or garage walls are no longer level. This problem can be caused by expansion and contraction of the soil under the house or by moisture issues.
Moisture in the Crawl Space
You may notice excessive moisture, mold and mildew in your crawl space and may smell a musty odor inside the house. This problem can be addressed by improving the drainage system.
Problems Inside the House
The floors may sag or become uneven. This can be dangerous, especially for children and people with limited mobility, because it raises the risk of falls and injuries.
You may notice that the doors are difficult to open and close or do not line up properly. While this is common after a heavy rainstorm because of moisture in the air, if it happens during dry weather, it could be a sign of an issue with the foundation. You may see gaps around the window frames or exterior doors, or you may no longer be able to lock doors—this creates obvious safety concerns.
If you notice that your cabinets and counters are separating from the walls, that is a sign of a foundation problem. Even a small amount of movement can indicate that there is a serious issue.
Have Your Home Inspected
A foundation problem is something that needs to be taken seriously. Even something that seems like a minor change can be a sign of a significant structural issue. If you notice any of these signs, contact a local contractor immediately to have your house inspected. It's necessary to correct foundation issues quickly to avoid further problems and prevent major structural damage.
© 2021 RISMedia. All Rights Reserved.
Mortgage rates ended 2020 near a record low. Will record-breaking rates continue in 2021?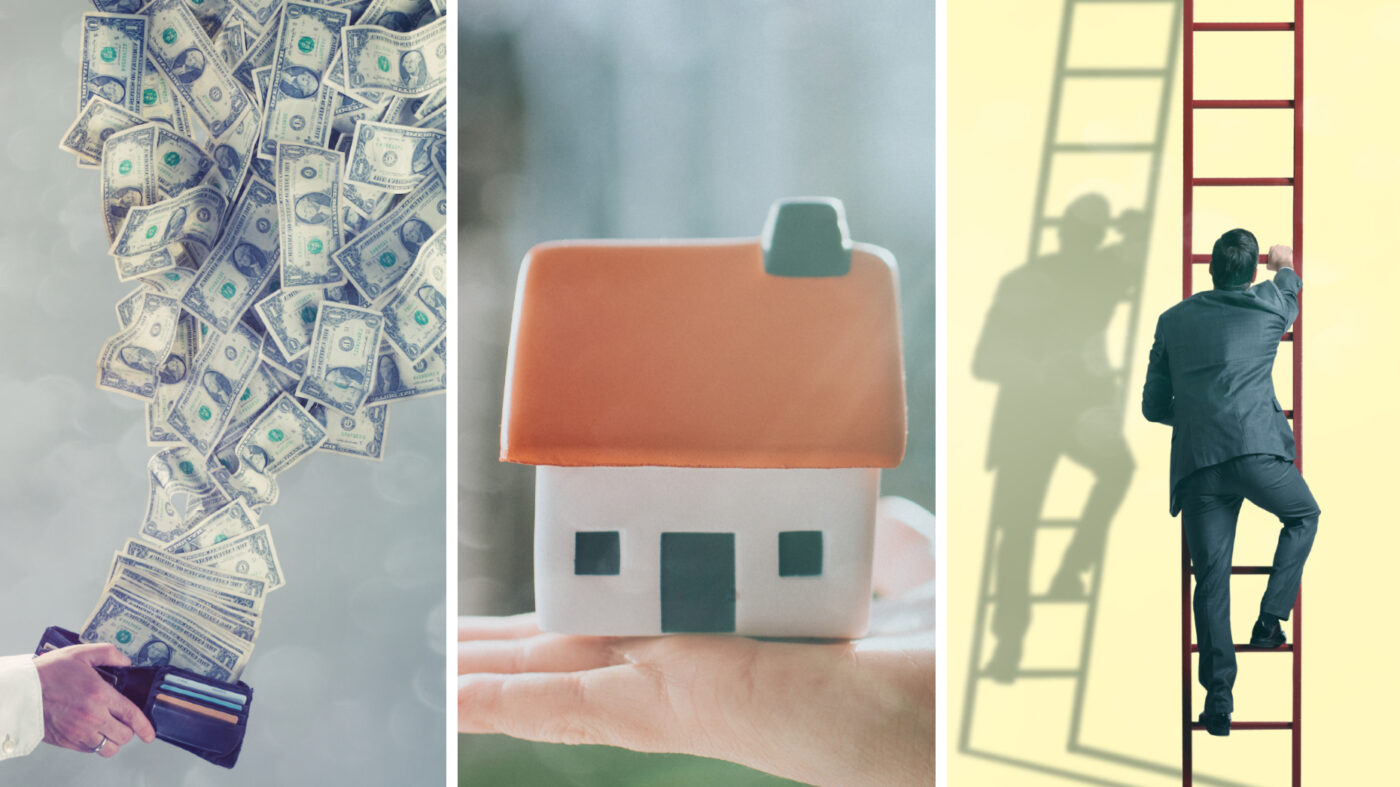 Mortgage rates plummeted to historic lows this year, with the rate seemingly topping itself every week. As the year comes to a close, the average rate for a 30-year fixed-rate mortgage sits at 2.67 percent, more than a full percentage point lower than the end of 2019.
How did mortgage rates get so low and will they rise in 2021?
"All eyes have been on mortgage rates this year, especially the 30-year fixed-rate, which has dropped more than one percentage point over the last twelve months, driving housing market activity in 2020," Sam Khater, Freddie Mac's chief economist, said in a statement.
Rates have been steadily falling for the year leading up to the pandemic, as the Federal Reserve has been consistently lowering interest rates to support a weakening economy. As the pandemic raged and the economy was all but shut down, the Federal Reserve's Open Market Committee moved rates to zero percent, to fuel economic growth.
The initial spike in massive demand led to a backlog of home purchases and mortgage lenders couldn't keep up, which meant increasing mortgage fees that are baked into the mortgage rate. That, in part, kept the mortgage rate from falling too fast in the early days of the pandemic.
At the same time, Powell and the Fed have continued to engage in high levels of quantitative easing, pumping liquidity into the mortgage market through the purchase of mortgage-backed securities. The Fed owns more than $2 trillion in mortgage-backed securities.
The aim of the Fed's purchase goals is to achieve a higher rate of employment while also pulling the levers of price stability through inflation. In a statement in mid-December, the Fed announced it remained committed to keeping the target range for the federal funds rate at 0 percent to 0.25 percent until employment and inflation goals are met.
"In addition, the Federal Reserve will continue to increase its holdings of Treasury securities by at least $80 billion per month and of agency mortgage-backed securities by at least $40 billion per month until substantial further progress has been made toward the committee's maximum employment and price stability goals," The committee said, in a statement. "These asset purchases help foster smooth market functioning and accommodative financial conditions, thereby supporting the flow of credit to households and businesses."
The pace of mortgage rate declines has far outpaced the level of declines seen in the past, according to Len Kiefer, the deputy chief economist at Freddie Mac.
The average 30-year fixed mortgage rate has typically dropped about two percentage points per decade, since 1981. In the past year, the rate has fallen more than an entire percentage point.
Economists, for the most part, aren't expecting a huge spike in mortgage rates, as we head into 2021.
"Heading into 2021 we expect rates to remain flat, potentially rising modestly off their record low, but solid purchase demand and tight inventory will continue to put pressure on housing markets as well as house price growth," Khater said in a statement.
Lawrence Yun, the chief economist at the National Association of Realtors, expects that mortgage rates will climb back up to around 3 percent in 2020, which is still far below the level rates were at prior to the pandemic.
The official NAR forecast, which includes predictions of more than a dozen economists, also predicts the average rate for a 30-year fixed-rate mortgage will rise to 3 percent in 2020 and 3.25 percent in 2021.
One potential stumbling block for the record-low mortgage rates would be an unexpected rise in inflation, which was something Yun cautioned over the summer when the Fed initially made it clear that rates would stay at zero for the foreseeable future.
"If inflation, for an unexpected reason, should pop up, then mortgage rates will rise independent of the Fed as lenders need to compensate for the loss of purchasing power of the dollar, which happened during the 1970s," Yun said, in June.
Low mortgage rates, for the most part, have done their job in fueling an extremely hot housing market. They have also been a major contributing factor in fueling the high price growth, according to Daryl Fairweather, the chief economist at Redfin.
"I expect that to continue into early 2021," Fairweather said on Twitter.
https://www.inman.com/2020/12/31/how-low-will-it-go-2020-was-the-year-of-record-low-mortgage-rates/?utm_source=inbriefselect&utm_medium=email&utm_campaign=inbrief&utm_content=832916_textlink_0_20201231
©2020 Inman All Rights Reserved.
Do you have a blank wall with no idea what to put on it? Rethink the boring family photo with these interesting ideas.
Get wordy. Whether you're a logophile or are just looking to amp up the playful vibe of your space, adding large text to your wall can be innovative and inspirational. You can purchase a variety of word hangings online, or create your own with stencils for a literal conversation starter right on your own wall.
Create a mirror collage. We all know a mirror on the wall can open up a room and throw lots of luscious light. But by using many smaller mirrors to create a pattern or design, you can add the benefit of a unique, boho vibe. Choose mirrors in various shapes or with different frames.
Hang a rug. Remember the old tapestries of your dorm room? Hanging a nice, well-made floor rug on the wall is the adult version of this decorating phenomenon. Whether you want a bold color pop or a bright design, pick a blank wall and go wild.
Vertical plants. Snag some aesthetically pleasing wall planters or sconces and create a botanical masterpiece by popping in your favorite succulents or hanging plants.
© 2020 RISMedia. All Rights Reserved.
Memorial Day Weekend often feels like the unofficial start of summer, but this year is going to be a little different. Although you might not be able to gather with friends and family to barbecue and bask in the warming weather, there are still plenty of ways that you can celebrate, while also taking the time to honor those who have sacrificed their lives to serve our country. Here are just a few ideas for a Memorial Day Weekend that the whole family can enjoy together.
Decorate the House
If you want to show your appreciation during the holiday, one of the best ways to do so is to fly the American flag from your front door. You can also hang a patriotic bunting from a porch or balcony to remind the neighborhood that even though we cannot gather together this year, we are still remembering those who have fought for our country.
Make a Donation
There are many different ways that you can give back to the veterans in your community during Memorial Day Weekend. This year, VA nursing homes and assisted living centers in the area are excellent places to make a donation, as these facilities are being hit hard across the country by this crisis and need our help now more than ever. If you're looking for an activity that the whole family can participate in, you can put together care packages for soldiers who are currently serving abroad.
Enjoy Family Time
Sure, you've probably had more than enough family time over the last couple of months, but try not to take it for granted over this holiday weekend. Whether you're grilling in the backyard or watching the National Memorial Day Concert in the comfort of your media room, it's important to remember the many advantages we have in this country thanks to the people who have fought to protect it. For those who are craving some fresh air, you can go on a family walk to the local cemetery to get outside and pay your respects.
© 2020 RISMedia. All Rights Reserved.
While there is a lot of excitement that comes with moving into a new home, there can also be a great deal of stress. Packing up your entire life and moving it somewhere else can seem overwhelming, but if you have a plan, it can seem a great deal more manageable. Here are the 3 major steps to take to prepare for a move and reduce the stress that can come with it.
Inventory Your Items
While this can seem like a daunting task, taking an inventory of every item in your home will save you a great deal of stress in the future. Whether you do a move entirely on your own or you hire a moving company, it is very important to have all of your items documented. If you sort your items by room and then document them as such and pack accordingly, you will be able to unpack your items by room into your new home in an organized way, ensuring you aren't missing any items.
Box It All Up
Once you have inventoried all of your items, you will then begin boxing up what you can. Many hardware and home improvement stores have affordable boxes but checking on local Facebook pages for someone trying to get rid of moving boxes could save you a few dollars. Once you have your boxes, it is key to pack by room. This will help if you follow your inventory list, ensuring every item gets packed. Label your boxes by room to make moving in to your new home a breeze.
Renting a Moving Truck
If you've never rented a moving truck before, it can be difficult to guess what size truck you will need to transport all your goods. Thankfully, many sites offer 'calculators' that are easy to find with a simple search and allow you to enter your box and furniture information and give you a recommendation on what size will best fit your needs. While packing your stuff up is often something movers want to do on their own to keep track of their items, sometimes hiring movers for the truck portion of the move can take a great deal of weight, both physical and metaphorical, off of your shoulders. By hiring movers to load up your truck, you will save the stress on your body and also gain the experience of movers who have packed trucks before. Many people who have moved recommend hiring movers for the loading and unloading portion of the move, even if you want to do everything else DIY.